Top Five Tempered Glass Screen Protectors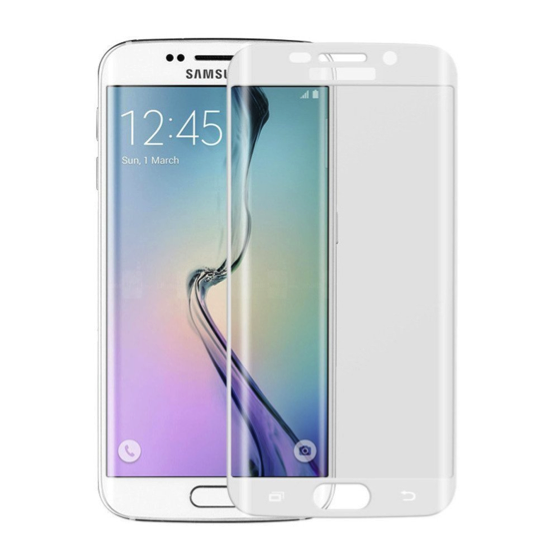 This product is extremely transparent, thereby making it easy to see the cell phone's display. It includes a 9H surface hardness, which is recommended for optimal scratch resistance. It has no negative impact on touchscreen sensitivity, and fits appropriately for the curved screen of the device it's designed for.
For Samsung Galaxy S8 users, this is the premiere screen protector. It doesn't compromise touchscreen sensitivity at all, and is easily installed on the cell phone. There's never a need to sacrifice clarity for protection. It's compatible with the Otterbox Resurgence Case, for added protection.
This tempered glass screen protector includes anti-glare capability, which makes it convenient to use in natural light. Its 9H hardness resists scratches, and it's also anti-shock. If the protector is broken, it breaks into tiny pieces that are held within the film, and unlikely to damage the cell phone itself. Very affordable.
For iPhone users up to iPhone 7, this clear tempered glass screen protector offers an option that won't shatter if broken, which lessens negative impact on the cell phone. It also resists scratches, fingerprints, and is easily applied without bubbles. Also quite affordable.
This tempered glass screen protector includes anti-glare capability, which makes it convenient to use in natural light. Its 9H hardness resists scratches, and it's also anti-shock. If the protector is broken, it breaks into tiny pieces that are held within the film, and unlikely to damage the cell phone itself. Very affordable.
This tempered glass screen cover includes an oleophobic coating that resists fingerprints. It also has a hardness level of 9H, and resists scratches to the surface of the cell phone. It's also easily applied and bubble free. It's made of extremely clear rounded glass, to fit the device perfectly.
Best Tempered Glass Screen Protector
What makes a specific tempered glass screen protector stand out from the rest? Challenges have arisen since smartphones started having curved surfaces, because the adhesive may only attach on the edges. This reduces sensitivity when using the touchscreen functions. This also applies to iPad and other kinds of tablets.
So the best glass screen protectors cover a smaller surface, without much overlap around the edges. This also reduces the chances of dust and dirt being trapped around the areas where the adhesive attaches to the cell phone.
Another feature that some provide includes an oleophobic coating, which reduces the chance of fingerprints obscuring the view of the screen. If any fingerprints appear, they easily wipe off.
Another helpful feature is rounded edges where the adhesive attaches. These lessen the likelihood that the edges will be lifted up when the device is handled.
Thickness of the glass screen protector impacts its effectiveness, also. It's best to have it thin enough to avoid any problems with using the touchscreen, while still thick enough to provide adequate protection from scratches or dents.
Some companies that produce glass screen protectors even include an incentive by providing funds toward a screen repair, if the cell phone's screen should crack while protected with their brand of screen protector. This can provide an added benefit, although hopefully not needed.
Other helpful features include the ease of installation. If the screen protector isn't installed correctly, it won't be effective at protecting the screen of the cell phone, iPad, tablet, etc. Some of the best brands include a cutout, or other method to assist the user with installing the screen protector perfectly on the first try.
The hardness of the tempered glass creates an effective screen protector. Some are not very helpful because they're too soft to protect the screen. Tempered glass with 9H hardness provides adequate protection in most cases.
iPhone Screen Protector
Many products aim to protect the iPhone's screen, whether it's an iPhone 5 or an iPhone X. The best screen protectors cover the entire display of the iPhone, but not all are able to achieve this.
Using a glass screen protector doesn't completely eliminate the chances of the iPhone's screen being broken, but it reduces likelihood of scratches. Any time the screen is scratched, that makes it more vulnerable to breaks from drops or bumps that happen later.
Therefore, the very best iPhone screen protectors should be scratch resistant. That can be a feature on its own, but it's enhanced when the material is designed with appropriate thickness and hardness.
The best tempered glass screen protectors for iPhones will be shatterproof, so it won't damage the screen if it happens to break. The goal is for the tempered glass screen to take the impact, while leaving the screen of the iPhone intact.
Other helpful features for iPhone glass screen protectors include a design that reduces sweat, oil, and fingerprints from affecting the surface. That will help keep the iPhone looking as clean as the day it was bought.
Liquid Screen Protector
Some users opt to use a liquid screen protector instead of tempered glass. Both have benefits, so it just comes to personal preference.
A liquid screen protector can often be applied with a pretreated wipe, and it hardens to protect the screen of the cell phone from scratches, breaks, etc. Liquid screen protector is smooth and easy to apply to the device. It's highly unlikely to have a negative impact on viewing the cell phone's screen, because it's transparent. It can also be used on iPads and tablets.
It's very easily used, and is responsive to touch. Along with this, it doesn't bubble very often and is readily cleaned. Cleaning only requires a soft cloth.
Privacy Screen Protector
Privacy screen protectors make it difficult or impossible for those not directly using device to see its display, which protects the user from unwanted invasions of their privacy. This would be particularly helpful when accessing financial information or other sensitive data.
Privacy screen protectors can be obtained for iPhone as well as Samsung cell phones. Additionally, they are available for iPad and some other brands of tablet.
Best Screen Protector
When determining the most valuable tempered glass screen protector, certain predictable factors go into the choice. The first has to do with how tough the protector needs to be. No one wants a fragile screen protector. That's where tempered glass is superior. The best tempered glass screen protectors can withstand a drop or bump without damaging the device.
Sensitivity to touch ranks high in importance, also. The best screen protectors will not impact the user's ability to access the features available by touch. Loss of sensitivity to touch is considered a big problem with using the screen protectors, so it's important to choose a brand that excels in this area.
Another key issue has to do with the space covered by the screen protector. Edge-to-edge cover is ideal. It's best to find a screen protector that covers the entire front of the device, and even protects the edges.
A final important factor involves whether the screen protector will protect from smudges. Fingerprints, makeup, oil. These can all affect the screen protector and make the phone look dirty quickly. It also can contribute to illness because of the presence of bacteria. Some screen protectors include technology that will reduce the impact of these factors. Many also provide materials to use for cleaning.
Reflective screen protectors also provide an alternative benefit. When the screen is unused, it converts to a finish that is exactly like a mirror. This can be a very convenient novelty.
If using an anti-glare screen protector, users will experience less eye strain because of reduced squinting. These screen protectors employ a matte finishing coat and diffusion to reduce glare.
Screen protectors can also repel fingerprints, which makes for a clearer view of the device. Similar to this, they can use dirt-resistant materials to make the screen less likely to collect dirt and dust.
Users can also find antibacterial screen protectors, which inhibit the growth of bacteria. They also reduce presence of mold and mildew, which makes the device safer to use and reduces unpleasant odors.